Sun August 30, 2020

TBD Salon III took place on August 30 at 7:30PM EDT and featured Camilo Godoy in conversation with Lindsay Catherine Harris and Emilio Martínez Poppe. This program was organized in partnership with The Laundromat Project.
Lindsay is an artist/educator working to increase meaningful civic engagement through the arts, challenge inequity, and amplify youth voice—specifically femme, queer, and trans youth of color—in cultural programming in Brooklyn. Emilio is an artist/designer whose work engages collectivity, its practices, and lived/speculative legacies of belonging through their spatial or linguistic formations. Camilo is an artist/educator whose practice is concerned with the construction of political meanings and histories.
In addition, we donated 10% of all proceeds raised for this program to The Black School's fundraiser to
Build a Black Radical Art School
— a 21st-century schoolhouse to expand their Black radical art programming into a community center providing civic engagement activities for New Orleans' 7th Ward.
LGBTQ+ Teen Night, Brooklyn Museum, 2019 (Photo: Julieta Salgado)

is a media artist, cultural worker, and educator, whose practice explores identity, presence, and history. Lindsay was a Flaherty Film Seminar Fellow, Laundromat Project Create Change Fellow, Black Public Media Nonso Christian Ugbode Fellow, and NYU Critical Collaborations Fellow. Lindsay has exhibited and presented at BRIC Arts Media, Brooklyn Museum, and Istanbul: Feminist Pedagogies, and been published by The Atlantic, Blavity, and NPR, among others. Co-curator of Nobody Promised You Tomorrow: Art 50 Years After Stonewall and co-founder InterseXtions, paid LGBTQ+ teen internship, Lindsay collaborates with fierce young people full-time as the Teen Programs Manager at Brooklyn Museum. Lindsay has a B.A. in Africana Studies and Art from Vassar College and M.A. in Arts Politics from NYU Tisch School of the Arts.
[Image description]: (left image) Portrait of Lindsay standing in front of a white backdrop with their body facing the camera and head turned to the right. Lindsay is wearing glasses, bright red lipstick, and a large graphic earring with the words "BLACK LIVES MATTER" patterned on it. Lindsay is wearing a fitted black tank top tucked into dark blue pants.
[Image description]: (right image) A group photo of 17 folks, mostly youth, posing on a small stage in the BK museum. One person in the back is throwing up a first, and two folks are posing dramatically on the floor in front. The youth wear yellow shirts with what looks like "BkM teen" printed on the side. The joy in this photo is palpable!
16 Portals, 2019, Emilio Martínez Poppe. Steel, cardboard, fabric, inkjet print, plexiglass. Image Courtesy of Abrons Arts Center 2018-2019 AIRspace Visual Artist Exhibition. Photo by Max Marshall.

(they/them)
is an artist working across installation, performance, participatory projects, and research-based collaborative projects. Their work engages collectivity, its practices, and lived/speculative legacies of belonging through their spatial or linguistic formations. Emilio earned a BFA from The Cooper Union School of Art and was a recipient of the SOMA+CU 2016 Scholarship for research in Mexico City. They have exhibited their work at FIERMAN, the Queens Museum, CUE Art Foundation, and Flux Factory in New York City; the Gerrit Rietveld Academie, and Vlaams Cultuurhuis de Brakke Grond, in Amsterdam; and The William Way LGBT Community Center in Philadelphia. Emilio has been an artist in residence at Abrons Arts Center, and Pratt Institute; a Fellow at The Laundromat Project; and a member of NEW INC at the New Museum. They are currently an MFA-MCP dual degree candidate at the University of Pennsylvania and a member of BFAMFAPhD.
[Image description]: (left image) A photograph of Emilio, who is gesturing with their hands, looking into the distance, and speaking. Emilio is wearing a light blue button-down shirt and standing in front of an open laptop. Emilio is lit by the open laptop and a warm spotlight from above.
[Image description]: (right image) A photograph of a large gallery space that has a photograph hanging on the wall of a person in a landscape that is surrounded by water. Within the gallery space there is a large white clothing rack constructed from metal pipes with around 15 grey/ black t-shirts with holes cut out across the front, hanging evenly spaced.
(he/him)
is an artist and an educator born in Bogotá, Colombia and based in New York, United States. He is a graduate of The New School with a BFA from Parsons School of Design, 2012; and a BA from Eugene Lang College of Liberal Arts, 2013. Godoy was a 2018 Session Artist, Recess; 2018 Artist-in-Residence, Leslie-Lohman Museum; 2018 Artist-in-Residence, coleção moraes-barbosa; 2017 Artist-in-Residence, International Studio & Curatorial Program (ISCP); 2015-2017 Artist-in-Residence, Movement Research; among others. He has presented his work in New York at the Brooklyn Museum, CUE, Danspace Project; Mousonturm, Frankfurt; and Toronto Biennial, Toronto; among others. Godoy has taught at Dedalus Foundation, Leslie-Lohman Museum, Brooklyn Museum, and New York Historical Society. He currently teaches at the Whitney Museum and Recess.
[Image description]: Headshot of Camilo sitting in front of a white wall on a stool with his right leg crossed over his left leg. Camilo is looking straight into the camera with his head resting on his left hand. Camilo is wearing a dark button-down long-sleeved shirt and light blue shorts.
is an arts and social justice organization who advance artists and neighbors as change agents in their own communities. The LP makes sustained investments in growing a community of multiracial, multigenerational, and multidisciplinary artists and neighbors committed to societal change by supporting their artmaking, community building, and leadership development.
[Image description]: Logo with the words The Laundromat Project, in a serif font, centered in a black, filled-in circle.
Sat July 18, 2020

TBD Salon II took place on Saturday, July 18 at 7:30 PM EDT and featured artist
E.T. Chong
, whose current practice is about creating safe spaces for queer and non-gender binary minorities within the Asian Pacific Islander (API) community, and interdisciplinary scholar and artist
Ace Lehner
. TBD Salon II was organized in partnership with
Recess
.
In addition and in solidarity and support of the Black Lives Matter movement, we donated 10% of all proceeds raised for this program to
The Okra Project
's Nina Pop and Tony McDade mental health recovery funds, which provide Black trans folks with mental health services with licensed Black therapists.
This excerpt is from TBD Salon II, held on Saturday, July 18 at 7:30 PM EDT.
Read the transcript here


Pence/Himmler, Slaysian Dynasty, 2019, E.T. Chong
is an activist, artist, and community builder focused on creating platforms for marginalized communities. Chong believes that art without any political statement or discourse is just glorified design, and his current practice reflects this sentiment by creating safe spaces for queer and non-gender binary minorities within the Asian Pacific Islander (API) community. Though E.T. Chong has a background in sculpture and fiber, his current work primarily utilizes the medium of information giving.
[Image description]: (left image) Colorfully lit headshot of Chong squinting into the camera with his right eyebrow slightly raised. Half of Chong's face is lit with a cool blue color, while the other half is lit with a warm red color. Chong is wearing a white tank top and dark-colored blazer and sitting in front of a plant.
[Image description]: (right image) Black and white image of Pence on one side of a chain-link fence outside a detention center. Other people, including what looks like one or several police officers, apparent from their badges, stand with Pence, while detainees look on from behind the fence. Image is overlaid with a transparency of Himmler and SS officers standing on Pence's side of the fence, while faces look on from behind. The SS officers/Pence have a pink/purple cast, while the prisoners' faces are tinted blue.
is an interdisciplinary scholar and artist specializing in contemporary art and queer and trans theory. Lehner has chaired panels at the College Art Association conference, has spoken at the International Center of Photography, and has been published in Art Journal Open, REFRACT, and elsewhere. Lehner will have a solo show at Practice Gallery in Philadelphia in the near future. Lehner received the College Art Association Professional Development Fellowship in 2020.
[Image description]: Headshot of Lehner in front of a blank white wall. Lehner is looking directly into the camera with a slight smile. Lehner is wearing a blue and white striped button-down shirt, dark navy blazer, and holding up a Minolta camera.
Recess partners with artists to build a more just and equitable creative community. By welcoming radical thinkers to reimagine and reshape their world, Recess defines and advances the possibilities of contemporary art. Recess's programs offer space and resources to generate innovative art and ideas that challenge dominant narratives. Recess is always free and open to the public to serve as a meeting place for meaningful exchange and action across a multiplicity of communities.
[Image description]: Recess logo. The word "recess" playfully displayed in a black sans-serif font across a white background.
Sat May 9, 2020

Our first virtual studio visit took place on May 9 and featured artist
Joiri Minaya
, whose recent works focus on destabilizing historic and contemporary representations of an imagined tropical identity, and writer/arts organizer
Elena Gross
. This first iteration of TBD Salon was organized in partnership with
Smack Mellon
.
Joiri Minaya, Tropticon, 2018,
is a Dominican-United Statesian multi-disciplinary artist whose recent works focus on destabilizing historic and contemporary representations of an imagined tropical identity. Minaya attended the Escuela Nacional de Artes Visuales in Santo Domingo (2009), the Altos de Chavón School of Design (2011) and Parsons the New School for Design (2013). She has participated in residencies at Skowhegan School of Painting and Sculpture, Guttenberg Arts, Smack Mellon, the Bronx Museum's AIM Program and the NYFA Mentoring Program for Immigrant Artists, Red Bull House of Art, the Lower East Side Printshop and Art Omi. She has been awarded a Socrates Sculpture Park Emerging Artist Fellowship as well as grants by the Joan Mitchell Foundation, the Rema Hort Mann Foundation and the Nancy Graves Foundation. Minaya's work is in the collection of the Museo de Arte Moderno and the Centro León Jiménes in the Dominican Republic.
[Image description]: (left image) A headshot of Joiri Minaya who is wearing small hoop earrings and a blue jean jacket. Her hair is up in a high bun. She looks straight on into the camera with a very slight smile. Behind her is an orange and blue artwork that is slightly blurred and abstract. (right image) Joiri's artwork titled Tropticon is set in a large open grass field with trees, bushes and flowers in the background. Tropticon is a small one-room structure with an A-frame roof. On the sides and roof of the house there are images of greenery like palms and trees as well as the sky on the roof. Two people are standing in front of the door peering inside the open door of the house.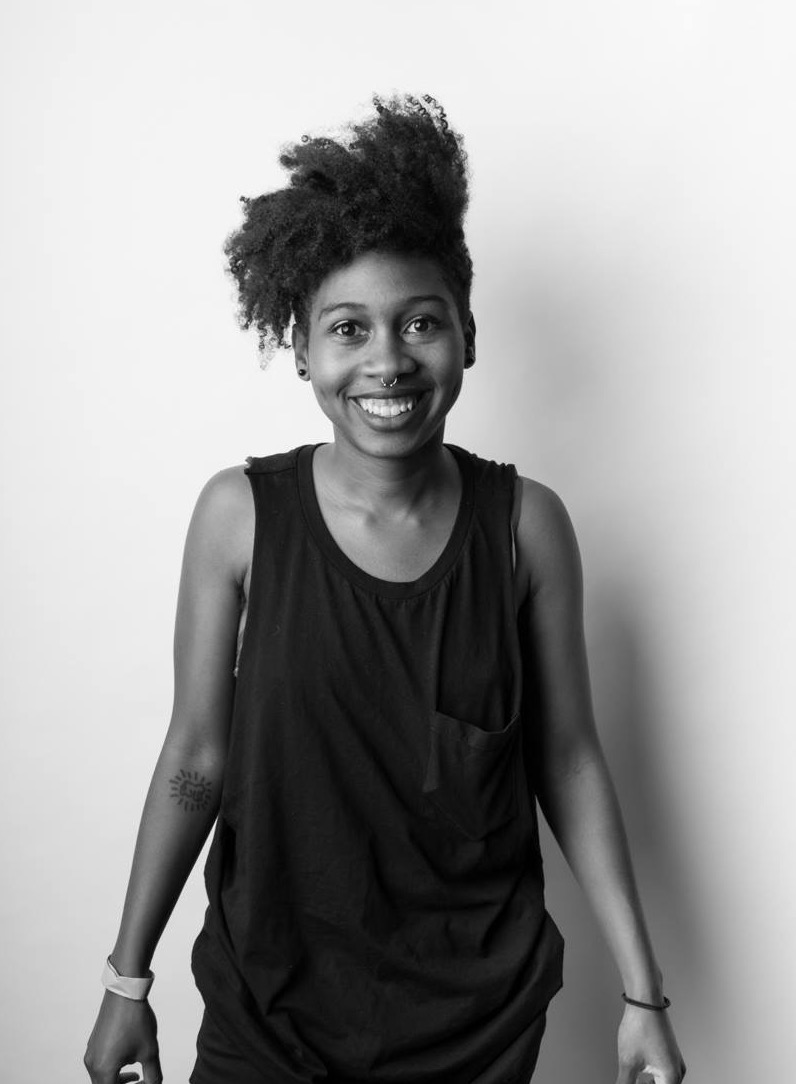 is an independent writer and culture critic living in Oakland, CA. She received an MA in Visual & Critical Studies from the California College of the Arts in 2016, and her BA in Art History and Women, Gender & Sexuality Studies from St. Mary's College of Maryland in 2012. She specializes in representations of identity in fine art, photography, and popular media. Elena was formerly the creator and co-host of the arts & visual culture podcast what are you looking at? published by Art Practical. Her research has been centered around conceptual and material abstractions of the body in the work of Black modern and contemporary artists. She has presented her writing and research at institutions and conferences across the U.S., including Nook Gallery, Southern Exposure, KADIST, Harvard College, YBCA, California College of the Arts, and the GLBT History Museum. In 2018, she collaborated with the artist Leila Weefur on the publication Between Beauty & Horror (Sming Sming Books). The two performed a live adaptation of their work at The Lab, San Francisco.
[Image description]: A black and white portrait of Elena Gross, smiling directly into the camera and wearing a dark-colored tank top with arms by her side, standing in front of a white wall.
is a nonprofit arts organization located in DUMBO, Brooklyn. Smack Mellon's mission is to nurture and support emerging, under-recognized mid-career and women artists in the creation and exhibition of new work, by providing exhibition opportunities, studio workspace, and access to equipment and technical assistance for the realization of ambitious projects. They are a vehicle whereby under-represented artists can create, explore and exhibit their creative ideas outside the concerns of the commercial art world, offering many artists the exposure and recognition they deserve.
[Image description]: A square formatted logo for Smack Mellon that has a light green rectangle on the top half and a grey rectangle on the bottom half. The words Smack Mellon are in white and span the green and grey colors. The letters are spaced apart in a thin font.